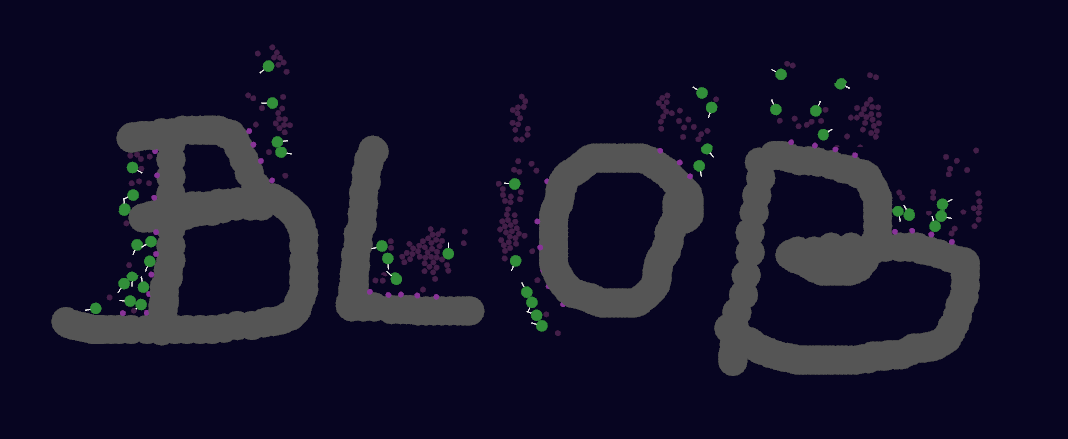 Blob
A downloadable game for Windows, macOS, and Linux
Create an aquarium full of life all inside a simulated drop of water!
Biological powder app!
Create the DNA of a living organism and watch it grow!
Share your creations by simply copy-pasting a short text.

Runs perfectly in Wine.
Codename BLOB.
Currently working on multicellular stuff. Muscles, neurons, connective tissue!

Inspiration:
Some simple species, around 1000-2000 cell per organism:
https://en.wikipedia.org/wiki/Rotifer
https://en.wikipedia.org/wiki/Trichoplax

(last 3 images on the right side)

Install instructions
1: Unzip file
2: Run blob.exe
3: Read README.pdf to create your own species

Comments
Log in with your itch.io account to leave a comment.
Why is it not available on Windows anymore?
How do I create my own DNA now, after the update I can't anymore
Yeah, the DNA changed quite a bit. Now you develop organelles with the "dev" command and set the behavioral code in "code ... end" blocks. It is a lot like to assembly. You use "mov", jump, "add" commands. But as it is a work in progress I didn't documented it yet.

I uploaded v0.4.4 with a README.pdf! I documented it!
This is still being worked on, correct? Would love to test this game out for you in the future. Has some great potential.
how do i get the mac version?
Your Linux version apparently lacks a binary, making it unplayable, mind fixing that?

EDIT: If it requires wine, please, at minimum, have a simple bash script that executes the .exe under wine.
Hey really enjoying trying to figure this little toy out but I think it would be helpful to have a tutorial or something on what all the commands do? I love this and want to make some really cool stuff but need to know what my tools are first haha thanks :)
Thanks for trying my game out! Currently working on v0.4 with a lot of improvements. Custom, way way faster physics engine. Easier, more user friendly way to write DNA code.

I did not write a list of possible commands for v0.3 but here is a readme I created for v0.2, most of the stuff is the same and you can figure out the differences by looking at examples. https://pastebin.com/62cy2sJQ

I wrote the documentation! Now you can create your own species in the new system!

New v0.3 is out!
New features:
- atk, def, hp
- sensing
- eating